Vision
The Can­cer Clin­i­cal Net­work's vision is for excel­lence and inno­va­tion in can­cer care for South Australians.
Goals
The Can­cer Clin­i­cal Net­work aims to improve health out­comes for all South Aus­tralians affect­ed by can­cer. We do this by:
being per­son centred
focus­ing on com­pas­sion­ate and equi­table care
work­ing in col­lab­o­ra­tive part­ner­ships with key stake­hold­ers across the entire can­cer continuum
build­ing on lat­est evi­dence to dri­ve excel­lence and innovation
dri­ving improve­ments in safe­ty, qual­i­ty and patient experience
pro­vid­ing strate­gic exper­tise and advice on can­cer care.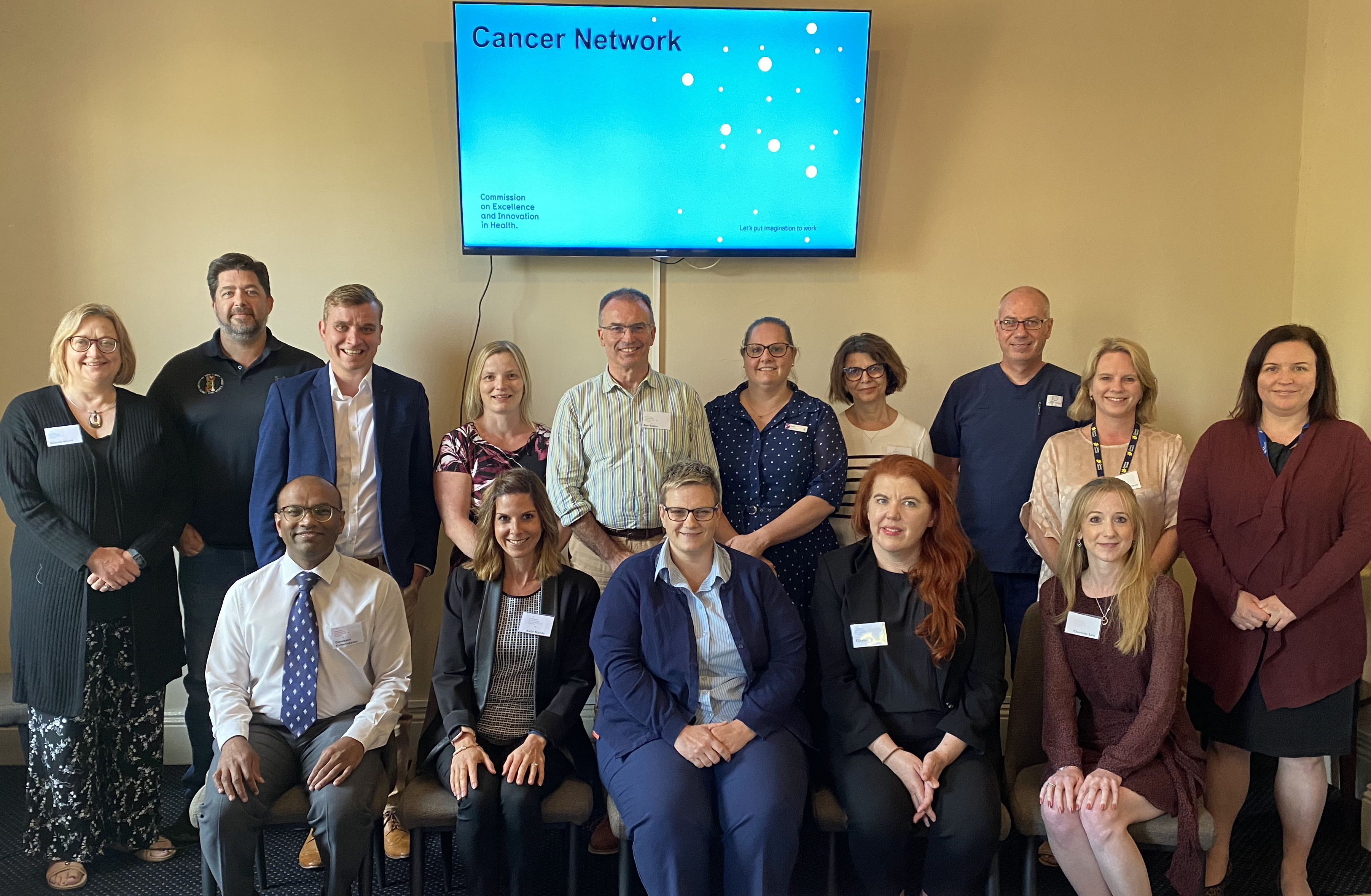 Statewide Cancer Clinical Network Steering Committee

Dr Ganes­san Kichenadasse

Con­sul­tant Oncologist/​Clinical Pharmacologist

Anna Brown

Head of Mol­e­c­u­lar Pathol­o­gy,

SA

Pathology

Nadia Corsi­ni

Senior Research Fel­low, Uni­ver­si­ty of South Australia

Michelle Damin

Haema­tol­o­gist, North­ern Ade­laide Local Health Network

Michael Fitzger­ald

Nurse Prac­ti­tion­er, Med­ical Oncol­o­gy, South­ern Ade­laide Local Health Network

Joanne Glover

Clin­i­cal Pro­gram Deliv­ery Man­ag­er, Can­cer Ser­vices, Cen­tral Ade­laide Local Health Network

Mark Haseloff

Con­sumer representative

Luke John­son

Orthopaedic Oncol­o­gist, South­ern Ade­laide Local Health Network

Chris Kara­petis

Direc­tor, Can­cer Ser­vices, Con­sul­tant Med­ical Oncol­o­gist, South­ern Ade­laide Local Health Network

Bek Lamb

Nurse Unit Man­ag­er, North­ern Ade­laide Local Health Network

Sil­vana Mazzaro

Senior Med­ical Prac­ti­tion­er, Breast Screen

SA

Sankha Mitra

Clin­i­cal Advi­sor Oncol­o­gy, Rur­al Sup­port Service

Belin­da Morris

Prin­ci­pal Project Phar­ma­cist Chemother­a­py,

SA

Pharmacy

Eliz­a­beth Murphy

Head, Col­orec­tal Surgery Unit, North­ern Ade­laide Local Health Service

Helen Phillips

Advanced Nurse Con­sul­tant, Rur­al Sup­port Service

Hay­ley Vasileff
Lead Can­cer Ser­vices Phar­ma­cist — Region­al Can­cer Services
Tim Price

Med­ical Lead, Can­cer Ser­vices, Cen­tral Ade­laide Local Health Network

Aman­da Robertson

Sup­port Ser­vices Coor­di­na­tor, Can­cer Coun­cil

SA

Ben Sax­on

Med­ical Unit Head, Haematology/​Oncology, Women and Chil­dren's Hos­pi­tal Network

Gab­by Vigar

Nurse Unit Man­ag­er, Radi­a­tion Oncol­o­gy, Roy­al Ade­laide Hos­pi­tal (cur­rent­ly on sec­ond­ment at

SA

Can­cer Service)

Byrone Kuss

Head of Haema­tol­ogy Ser­vices, Mol­e­c­u­lar Med­i­cine and Genetics

Prof David Roder

Research Chair, Can­cer Edipemi­ol­o­gy and Pop­u­la­tion Health

Ker­ri Monteiro

Con­sumer representative

Sharon Philpott

Con­sumer representative
Network Lead
Dr Ganessan Kichenadasse Achievements Statewide Cancer Clinical Network

Devel­op­ment of Covid-

19

can­cer care documents
Sys­temic ther­a­py stan­dards – state wide vs nation­al mapping
Devel­op­ment of data strat­e­gy for can­cer outcomes
Com­ple­tion of a ​

'

stan­dard sys­temic ther­a­py' con­sent form
Com­menced Chemother­a­py Nation­al Stan­dards Sup­port­ing document
Devel­op­ment of

COVID

19

Vac­ci­na­tion infor­ma­tion — con­sumer and health professionals

Documents More information

Have a ques­tion or want to know more about the Can­cer Statewide Clin­i­cal Net­work? Please email CEIHCancer@​sa.​gov.​au