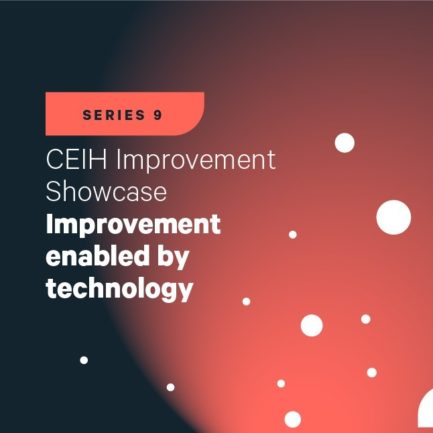 Join us for Improvement Showcase Series 9!
The show­case is a free, themed webi­nar series host­ed by the CEIH, that brings togeth­er inte­grat­ed South Aus­tralian teams to con­nect, share and explore improve­ments made in healthcare.
We're excit­ed to share the fol­low­ing pre­sen­ta­tions for Series 9: Improve­ment enabled by technology

Show­case 24: Tele­health for Den­tal Emer­gency Triage: A Response to COVID-19 and Beyond.
Thurs­day 12 May, 1pm
Pre­sent­ed by Mark Chil­vers, a/​Group Exec­u­tive Direc­tor, Statewide Clin­i­cal Sup­port Services
Dr Michael Bradley, Direc­tor Clin­i­cal Busi­ness Ade­laide Den­tal Hos­pi­tal, SA Dental
Show­case 25: Omega‑3 Screen-and-Treat Pro­gram in Ear­ly Pregnancy
Thurs­day 19 May, 1pm
Pre­sent­ed by Pro­fes­sor Maria Makrides, Deputy Direc­tor and Theme Leader for SAHM­RI Women and Kids — on behalf of the omega‑3 imple­men­ta­tion project

Show­case 26: Bring your own device – chal­lenges for con­sumers and the health service
Thurs­day 26 May, 1pm
Pre­sent­ed by Tom Beat­ty, Qual­i­ty and Risk Man­ag­er, Clin­i­cal Gov­er­nance Unit
Simon Wind­sor, Man­ag­er, Research Gov­er­nance & Ethics, Office for Research, SALHN
To reg­is­ter to attend, see our Events Page.
To watch past ses­sions, see Improve­ment Show­case.