Pandemic Kindness Movement
The Pan­dem­ic Kind­ness Move­ment web­site is a mul­ti-state ini­tia­tive led by clin­i­cians to sup­port the well­be­ing of all health work­ers dur­ing the
COVID-

19
pandemic.
What is it?
COVID-19 has been a threat to us all and has brought what health­care work­ers do to pro­tect us into sharp focus. Not only has COVID-19 raised con­cerns about the demands on the health­care sys­tem, but it has also caused added stress for the health work­force who are car­ing for oth­ers while also wor­ried about their own safe­ty and that of their families.
In times of stress, it is even more impor­tant that peo­ple have easy access to rel­e­vant and reli­able resources, so we teamed up with the Agency for Clin­i­cal Inno­va­tion in New South Wales, Safer Care Vic­to­ria and Queens­land Health to devel­op a web­site, which pro­vides resources for health work­ers to main­tain their phys­i­cal and psy­cho­log­i­cal health and wellbeing.
Maslow's Hier­ar­chy of Needs
The Pan­dem­ic Kind­ness Move­ment organ­is­es resources around the five lev­els of Maslow's Hier­ar­chy of Needs, which is a psy­cho­log­i­cal frame­work that shows the needs we all expe­ri­ence at dif­fer­ent times in our lives, from the most basic like food and water, to mak­ing a pos­i­tive contribution.
Key to the Pan­dem­ic Kind­ness Move­ment is also look­ing at resources for health­care lead­ers so they can best sup­port their teams.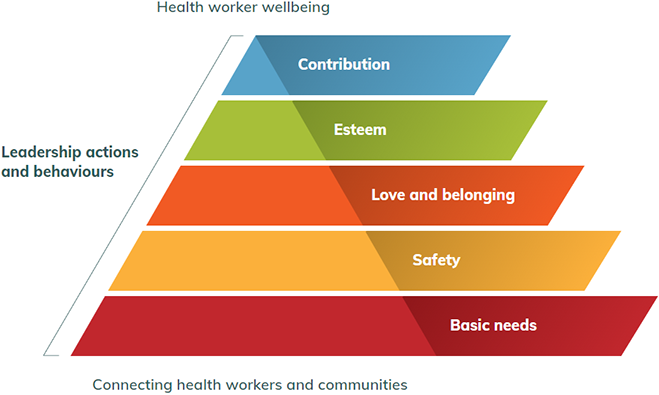 Project team mem­bers and roles
Katie Billing, Exec­u­tive Sponsor
Jar­rard O'Brien,

CEIH

Rep­re­sen­ta­tive on the gov­er­nance group
Mike Palmer, Project Manager
Rama Ramanathan, Project Manager
Scott Pointon, User Expe­ri­ence Developer
More infor­ma­tion
For more infor­ma­tion and to see the final prod­uct, vis­it the Pan­dem­ic Kind­ness Move­ment web­site.