Who we are
The
CEIH
is led by the Com­mis­sion­er, Pro­fes­sor Derek Chew. We have four direc­torates and a busi­ness oper­a­tions team who sup­port the office of the Commissioner.
Peo­ple are at the cen­tre of every­thing that we do. Togeth­er we can empow­er peo­ple and build capac­i­ty so we are the glob­al leader in health­care innovation.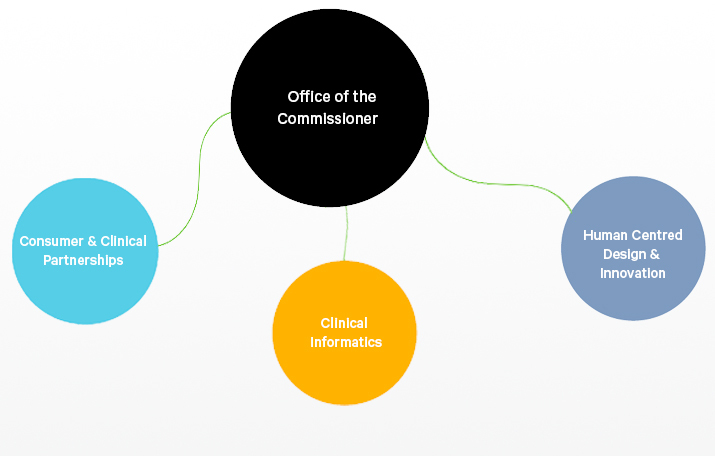 Con­sumer and Clin­i­cal Partnerships
Col­lab­o­ra­tion is the key to inno­va­tion. Excel­lent health­care doesn't just hap­pen by chance, it's designed and con­tin­ues to be designed as we man­age the con­stant trans­for­ma­tion of the health system.
Every­thing we do involves part­ner­ing and col­lab­o­ra­tion for a bet­ter health sys­tem.
Our Con­sumer and Clin­i­cal Part­ner­ships direc­torate is focused on devel­op­ing sys­tems to build and nur­ture the rela­tion­ships between clin­i­cians, com­mu­ni­ties, con­sumers and car­ers and oth­ers who work in the health sys­tem. These part­ner­ships help improve expe­ri­ences, fos­ter inno­va­tion and ulti­mate­ly lead to bet­ter health outcomes.
Clin­i­cal Improve­ment and Innovation
New think­ing unlocks new oppor­tu­ni­ties. We bring improve­ment and inno­va­tion togeth­er with hori­zon scan­ning, research, knowl­edge, emerg­ing tech­nolo­gies and peo­ple to think dif­fer­ent­ly about how health­care is delivered.
Our Clin­i­cal Improve­ment and Inno­va­tion direc­torate is respon­si­ble for cre­at­ing an envi­ron­ment that sup­ports all stages of inno­va­tion — ideation, exe­cu­tion and adop­tion – rang­ing from con­tin­u­ous improve­ment to the big new ideas. By com­bin­ing cre­ative think­ing with emerg­ing tech­nolo­gies such as arti­fi­cial intel­li­gence, robot­ics and vir­tu­al and aug­ment­ed real­i­ty, we can become glob­al lead­ers in health innovation.
Clin­i­cal Informatics
Data makes the pos­si­bil­i­ties end­less. More than just num­bers and iden­ti­fy­ing pat­terns, Clin­i­cal Infor­mat­ics can dra­mat­i­cal­ly improve how we deliv­er healthcare.
We can enable inno­va­tion and tech­nol­o­gy to aid how we make clin­i­cal deci­sions, devel­op poli­cies, plan ser­vices, improve and eval­u­ate what we do. We can upscale our ideas and pro­grams, or down­size them, using data. We can even map out if they will be sustainable.
The Clin­i­cal Infor­mat­ics Direc­torate is about improv­ing how data and ana­lyt­ics are used to improve health­care, build­ing capa­bil­i­ty in clin­i­cal infor­mat­ics, enhanc­ing the data assets and pro­vid­ing bet­ter access to data across the health sys­tem to inform the cre­ation of bet­ter healthcare.
Human Cen­tred Design
Human cen­tred design is about putting peo­ple at the cen­tre of every­thing we do. It brings clin­i­cians togeth­er with con­sumers, their fam­i­lies and car­ers, and the wider com­mu­ni­ty through every step of our design processes.
Human cen­tred design starts by under­stand­ing people's expe­ri­ence and what mat­ters to them, it then cre­ates con­nec­tions so they can test ideas togeth­er with health­care providers and pro­vide bet­ter health­care expe­ri­ences and out­comes for every­one — con­sumers, car­ers and their fam­i­lies, as well as health­care providers.
Peo­ple are at the cen­tre of every­thing we do.
The Human Cen­tred Design Direc­torate pro­vides knowl­edge and advice to build capac­i­ty, under­stand­ing, skills and think­ing for a more com­pas­sion­ate health sys­tem where all involved respect, val­ue and active­ly seek out each oth­ers' opin­ions. The Human Cen­tred Design Direc­torate is also help­ing build resilience and well­be­ing among clin­i­cal staff so that they can bet­ter man­age their stress, be health­i­er and deliv­er bet­ter health­care for all South Australians.