Before you start

What is MURAL?
MURAL is a digital collaboration space for sharing your ideas on:
Reimaging healthcare transition for young people in South Australia.
What do you need to use MURAL?
MURAL is optimised to run on a laptop or desktop, and a modern browser – Chrome, Edge, Firefox or Safari.
Accessing MURAL
To open MURAL, visit Reimagining Healthcare Transition for Young People
Select Enter as a visitor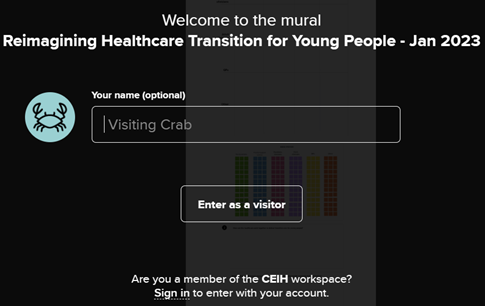 Finding your way around MURAL
The MURAL workspace has been setup to capture your ideas on several key questions.
To learn how to navigate the MURAL workspace, watch this short video.

Submitting your ideas
You'll be using virtual 'sticky notes' to submit your ideas to the MURAL, by completing three activities.
The activities address six key questions about healthcare transition services for young South Australians.
Using the Ideas Station
Click and drag a sticky note from the Ideas Station into the section for a specific question
Click on the sticky note
Type your suggestion or idea onto the sticky note.
Hint: Use Zoom to make it easier to read the text on your sticky notes.
Note: The Ideas station for each question has been colour-coded to capture responses and ideas for the following stakeholder groups:
Young people (green)
Family & support workers (blue)
Paediatric clinicians (pink)
Adult clinicians (purple)
General Practitioners (yellow)
Other (orange)

You can submit ideas on behalf of any or all of these groups.
For example: If you're a GP, you can submit your ideas on a Family/support worker's role in transitional care for the various age groups of young people.
Please follow these steps for submitting your ideas:
Submit one idea per sticky note
Limit your responses to 4-5 ideas per question.

Need help and support?
If you need any help or support with submitting your ideas and completing the activities in MURAL please email CEIH.​AdolescentTransition@​sa.​gov.​au