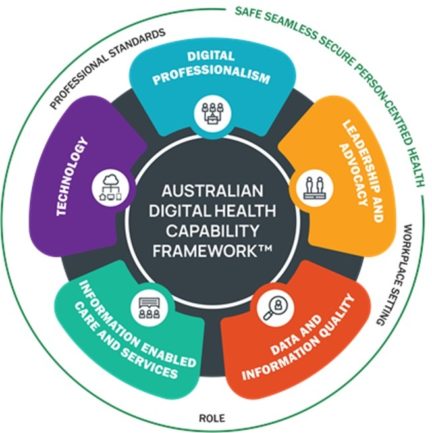 Improving the digital capability of health workers
The CEIH is col­lab­o­rat­ing with the Aus­tralasian Insti­tute of Dig­i­tal Health (AIDH) on work­force ini­tia­tives as the health work­force is called on to deliv­er care in an increas­ing­ly dig­i­tal world.
The AIDH leads the imple­men­ta­tion of the Nation­al Dig­i­tal Health Capa­bil­i­ty Action Plan (CAP), which will sup­port health work­ers to have the dig­i­tal capa­bil­i­ties they need now and in the future. The CAP includes the devel­op­ment of a draft Dig­i­tal Health Capa­bil­i­ty Frame­work (refer Fig­ure 1) and asso­ci­at­ed self-assess­ment tools for all health staff. This is sup­port­ed in a col­lab­o­ra­tive effort in South Aus­tralia by the CEIH, Health Trans­la­tion SA (HTSA) and Dig­i­tal Health SA (DHSA).
'Dig­i­tal health' is a broad term that refers to the ​"range of tech­nolo­gies that can be used to treat patients and col­lect and share a person's health infor­ma­tion" (Aus­tralian Insti­tute of Health and Wel­fare). Tech­nolo­gies include elec­tron­ic pre­scrib­ing and health records, tele­health and telemed­i­cine, mobile appli­ca­tions and arti­fi­cial intelligence.

The CEIH strong­ly sup­ports this work. We believe that by improv­ing the capa­bil­i­ty of the work­force to use and under­stand a range of dig­i­tal health tech­nolo­gies and appli­ca­tions, health work­ers will be able to con­fi­dent­ly make data informed deci­sions in clin­i­cal, oper­a­tional and strate­gic set­tings. The Frame­work will help the CEIH to under­stand how we can sup­port and assist staff to improve their skills and capa­bil­i­ties so they can take advan­tage of future tech­no­log­i­cal and dig­i­tal advances.

The CEIH, through our Statewide Clin­i­cal Net­works, has gath­ered a range of clin­i­cians and oth­er health sec­tor work­ers to pro­vide feed­back on the Frame­work and prac­ti­cal tools. These respons­es will fur­ther improve the tools and ensure key com­po­nents of dig­i­tal capa­bil­i­ty are addressed. Once com­plete, staff can access the Frame­work, along with self-assess­ment tools and guides to help them test and improve their dig­i­tal health skills. This work is intend­ed to strength­en and devel­op strong dig­i­tal health skills across the work­force and assist with broad­er health indus­try skills devel­op­ment and planning.

You can find out more about the project or fol­low its progress here: Advanc­ing work­force capa­bil­i­ty: Health­care in a dig­i­tal soci­ety — AIDH (dig​i​tal​health​.org​.au)